SoundCloud is an excellent resource for sharing and promoting your music. It's home to over 10 million music creators, and for anyone just starting out it can often feel difficult and intimidating to build your presence in the online music community.
You may think "If you build it, they will come," but experienced SoundCloud artists know that this is not true. You need to put in the work to gain exposure for your music. There are over 175 million monthly users on SoundCloud, so you need to learn how to take advantage of this platform to get your music out to those people.
Let's say you've already started up your SoundCloud account – what other measures can you take to keep your listeners coming? Keep reading for 7 key ways to build an engaged audience.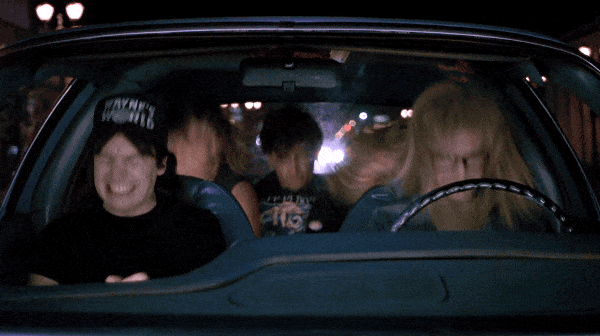 Image credit: Giphy
Build on Your First Impression
A general rule in life is to always try to make a great first impression. Same goes with your SoundCloud profile.
The basic idea is to have a great profile set up on your SoundCloud page, with content for your viewers to dig into. Set up an attractive profile picture and logo, along with a short bio. Don't forget to include your contact information and links to your other social media accounts.
You may also want to consider upgrading to a Pro account to show that you are a serious artist. This will give you benefits like being able to upload more music, the use a premier feature-set, and access to important analytics tools so you can learn more about your audience.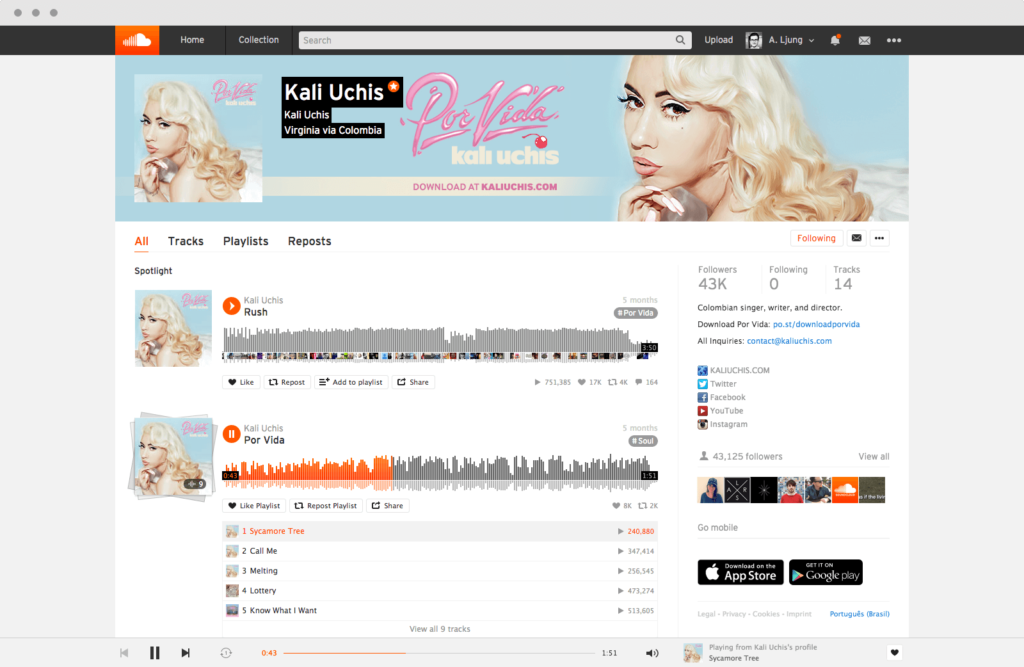 Image credit: SoundCheck.SoundCloud 
Consistently Upload New Music
Sharing new music consistently, on a regular schedule, will help you develop new, raving fans. Visitors will look forward to visiting your page because they know you'll always be posting something new.
However, don't pressure yourself to upload music when it's not good quality. Do not upload half-baked tracks just to give something new to your audience. Find a posting schedule that works for you, where you can be consistent but still have enough time to make good music.
Remember that the fans who listen to your music on SoundCloud are the people who will most likely pay your checks at your gigs and actual album releases. Your profile should always show your amazing tracks and let every potential visitor see that you are one amazing artist.
Buy Plays and Other Signals of Engagement
As you engage with other members of the SoundCloud community, more and more people will be looking at your profile.
You can quickly build up your social proof and look more popular by buying SoundCloud Plays and other forms of engagement, like followers and comments.
When people see how many Plays your tracks are getting, they'll be compelled to check you out as well. As your popularity grows, your ability to draw more people in will grow as well.
Show Off Your Best Tracks
People will go to your SoundCloud profile to listen to your music, obviously. When people get there, you don't want to leave it up to them to sort through your uploads on their own. In some cases you may want people to hear certain songs first, before getting into your more eclectic stuff.
Instead of letting people free roam, you should guide them to where you want them to go. If you upgrade to a Pro account, use the Spotlight feature so you can draw attention to a certain track, highlighting it at the top of your page.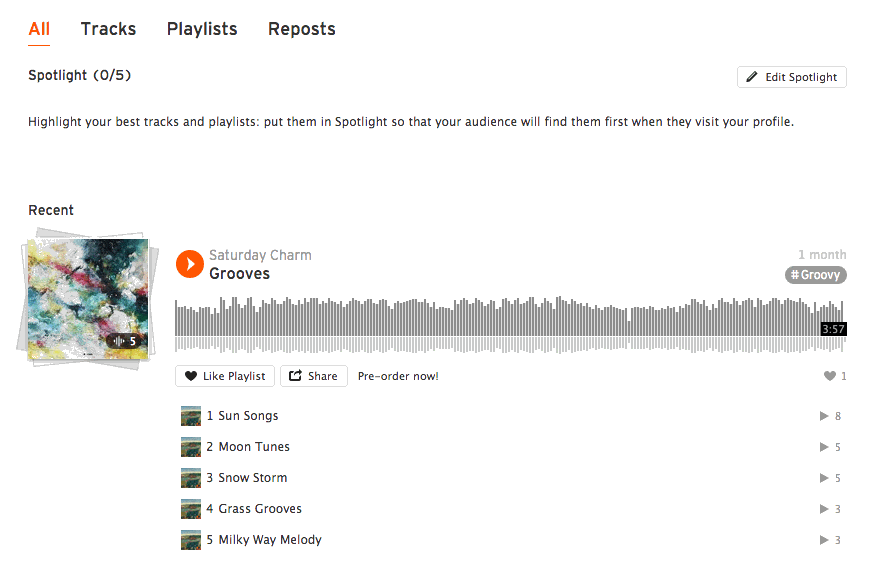 Image credit: SoundCloud
If you use Spotlight, you will be able to pin up to five tracks or playlists that you want to promote on the top of your profile. The rest of your tracks and playlists will appear in reverse chronological order. Use this feature to highlight your newest releases or your best songs – it's a perfect way to put your best foot forward to make that good impression.
Share on Other Platforms
Every time you post music on SoundCloud, you should not forget to share it on Instagram, Twitter, Facebook, and other social media platforms that can help you reach your listeners. Wherever you have a presence, share your music there.
You'll have a better chance of getting more plays and even new followers on SoundCloud. Hopefully, if they like what they hear, those listeners will also comment and share your songs with their networks.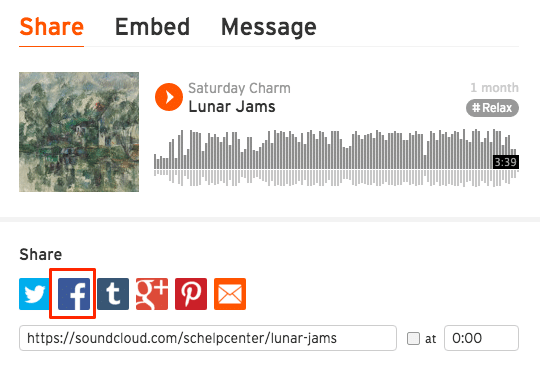 Image credit: SoundCloud
Engage with Listeners and Other Artists
SoundCloud is the perfect platform to connect with fellow musicians and music lovers alike. To get the most out of this social network, you have to interact with other users.
You can start by following other artists and their music pages, listening to what they have to offer. Leave comments on their tracks, but just make sure they're sincere.
They might just return the favor, providing an easy way to establish a relationship. Keep this process going, and it will help you gain more exposure for your music and introduce you to a wider SoundCloud community.
Join a Group or a Community
Another way you can encourage more engagement on your SoundCloud is by submitting your music to various groups on the platform. Find groups that work for your genre, your music, or even your hometown.
Make sure the music you submit will bring value to the group – use them appropriately and don't be a troll. Avoid spamming these groups, especially because most of the people do not know you yet.
This is yet another way you can meet fellow artists that you may collaborate with in the future, and new listeners that might be your potential fans.
Keep the Synergy Going
Building an engaged audience on SoundCloud will require creativity, time, and effort. You have to maintain a positive disposition and keep your eyes on the prize. Success doesn't come easy so don't expect to see results overnight – you have to be in it for the long haul.
Just continue to consistently upload quality tracks on SoundCloud, interact with influential users whenever possible, and follow all the other tips we have shared in this article. Try pairing your awesome music with bought Plays and other signals of engagement for an extra boost.
Watch your page and your fanbase grow bigger. If you stick to it, you might just be the next big SoundCloud star.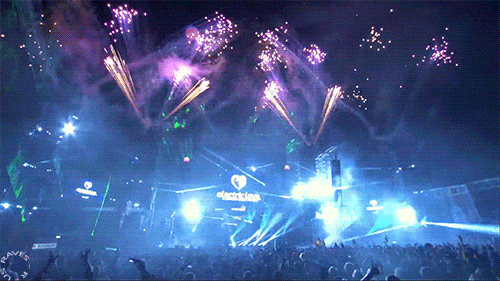 Image credit: BestAnimations
Date: May 31, 2017 / Categories: Getting Discovered, Marketing, SoundCloud Plays, / Author: Pamela