Despite seeing some hard times over the past year, SoundCloud is showing no signs of stopping. Just look at their recent update to their site, called The Upload, which was designed to make new tracks more searchable to a lot more listeners by pulling them all together in one list.
This means your newly-uploaded tracks have a better chance of being discovered by potential fans – and isn't that what all music creators want? Aside from the recent update, there are a number of online tools that are at your disposal which can help you reach out to even more listeners.
Below is a guide on some of the most useful yet underrated growth hack tools you can use to become even more popular on SoundCloud.
Are you ready to become famous? The road to SoundCloud stardom begins here.
Fan Gates
Fan gates allow listeners to either access or download a song in exchange for social signals such as likes, comments, follows, or reposts.
Fan gating helps you increase a track's appeal by putting up a virtual gatekeeper between listeners and your music. Listeners who download your track also drive traffic to your SoundCloud profile, which helps you become more noticeable among even more listeners.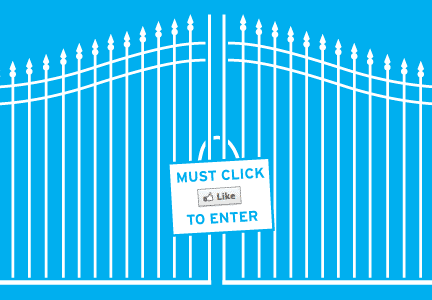 Image credit: TheSocialMediaMonthly
Setting up fan gates is fast and easy. There are several fan gate websites out there that offer their services for a minimal fee. You can find some of the most popular ones below:
Purchased Plays & Other Social Signals
It's safe to say that nobody wants to wait for organic growth these days – especially not up and coming artists such as yourself. Thankfully, you no longer have to rely solely on organic growth in order to succeed on SoundCloud.
Purchasing plays and other social signals from a highly-regarded provider can help you strengthen your social proof and online credibility as a musician without having to painstakingly wait on those organic plays to come in.
Buying plays and other social signals will give you the upper hand you need to get your career on the road. If you want to find the best quality social signals out there, be sure to check out our Top Provider list and choose your company wisely.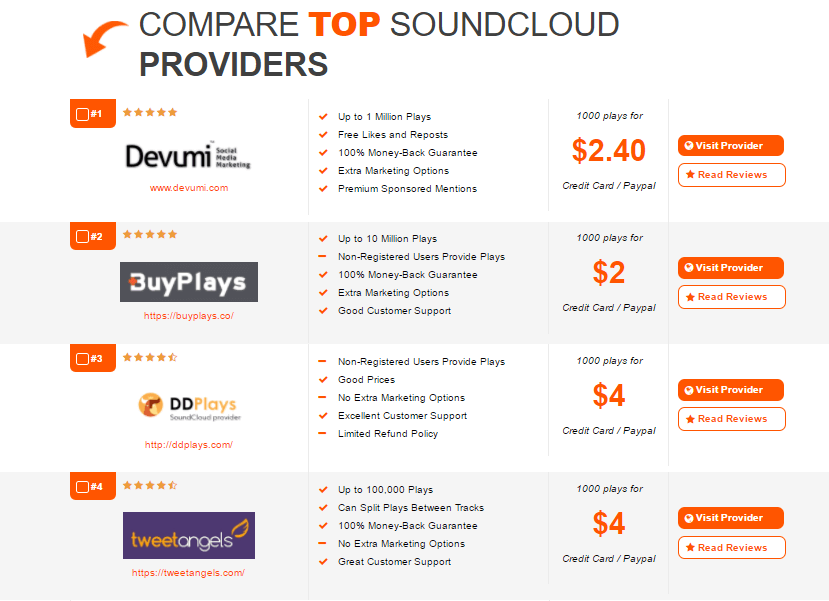 Image credit: SoundCloud Reviews
There are hundreds of providers out there who just want to make a quick buck, so avoid the scams and only stick with tried and tested providers like the ones you can find on our website.
Keep in mind that SoundCloud is a fast-changing platform and you have to have a strategy that can keep up with it.
Social Media
If you want to make relevant and engaging music, connecting with as many listeners as possible through social media is the way to do it. By connecting with them through social media platforms, you get to learn so much more about the topics they care about and connect with them on a personal level.
Check out our comprehensive social media marketing guide, which can help you make the most out of the various networking platforms out there.
Online Communities
Message boards and forums are not only prime networking opportunities, they can also help you establish your credibility as a musician by imparting insights and advice to those seeking answers online.

Image credit: Jamendo
Put your expertise and experience to good use by answering questions, responding to comments and even collaborating on tracks with fellow musicians online.
Below are some of the busiest and most popular music communities online:
Music Promo Channels on YouTube
YouTube is not just home to entertaining videos, you can also find numerous music promo channels on the platform that can help you reach out to a more targeted fan base.
Music promo channels are considered the new tastemakers of the industry. They have great influence over music fans who are in search of fresh tracks.
If you think reaching out to music promo channels on YouTube is intimidating, keep in mind that these channels live off giving their fans recommendations, and pitches from budding musicians like yourself save them time and energy looking for talent.
Begin your outreach campaign by getting in touch with a few of the most popular music promo channels on YouTube, as featured below:
Track Mastering Software
If you want to take your music career up a notch, you have to continuously find ways to elevate the quality of the tracks you produce.
Using track mastering software is a great way to polish your music and give it a more professional sound. Any extra work or improvements you make on your tracks can help you establish an impression that sticks among new listeners.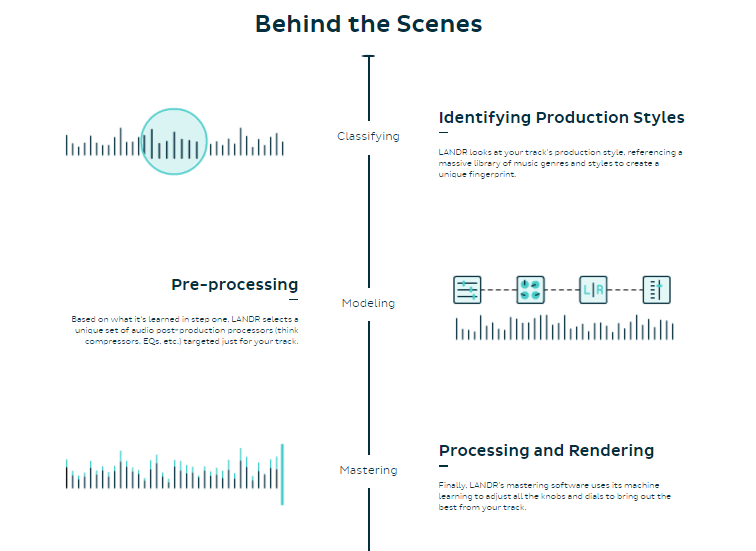 Image credit: LANDR
You can find many track mastering programs that require varying degrees of technical expertise and with different price points to suit your budget. Find two of the most popular mastering tools below:
Both of the tools we mentioned have advanced features and a clean interface that will help make editing a lot easier. The intuitive design decreases the learning curve so you can make more good music, faster.
Music Videos on YouTube
Debuting a music video on a platform like YouTube will help listeners put a face behind the voice, making you even more memorable as an artist. If you're serious about leaving an impression among music fans, you have to put your best foot (and track) forward – and plaster it all over the internet.
The Weeknd knows how to pair new tunes with a killer music video. This gives their fans something to be excited about track after track.
YouTube makes it extremely easy and affordable to premier your very own music videos. If you keep it up, this can help you become a more recognizable artist overall.
Growth Hack Tools are at Your Disposal – Use Them!
There are tons of free tools and reasonably-priced subscription services out there that can help you strengthen almost any aspect of your campaign – from track mastery to marketing and beyond.
Remember, social proof is highly regarded on an artistic platform like SoundCloud. Invest your marketing energy and resources wisely by purchasing high-quality SoundCloud Plays and social signals from a tried and tested provider.
These social signals can help you rise to prominence a lot more quickly, without having to rely on the slow and painstaking process of organic growth. You still need a solid marketing/music-making plan, but these bought signals can speed you along your way.
These days success on a platform like SoundCloud is no longer single-handedly measured by how hard you worked, but by how smart you used all the available tools at your disposal to reach the top.
Date: May 26, 2017 / Categories: Getting Discovered, Marketing, / Author: Mariko