SoundCloud has risen over the years to be the most used music sharing website. As of today, this platform has enjoyed hundreds of millions of visitors and is poised to continue in an upward direction for at least the next few years. This platform gives users the option to upload, share, download, and comment on audio files; this makes it a useful tool for an artist who wants to promote themselves and be heard globally at little or no cost. However, you should have it at the back of your mind that it is not easy to upload music to SoundCloud if you don't have the right knowledge of how to go about the upload.
It is easier to embed and share tracks on SoundCloud than other platforms in the same niche. However, this popular music sharing platform has its difficulties if you're looking at getting your record to the platform. Such a challenge is that it does not accept audio files in some standard formats. Let's discuss on into more difficulties that you may encounter when uploading an audio file to SoundCloud. We will focus more on ways to successfully upload your track to the platform.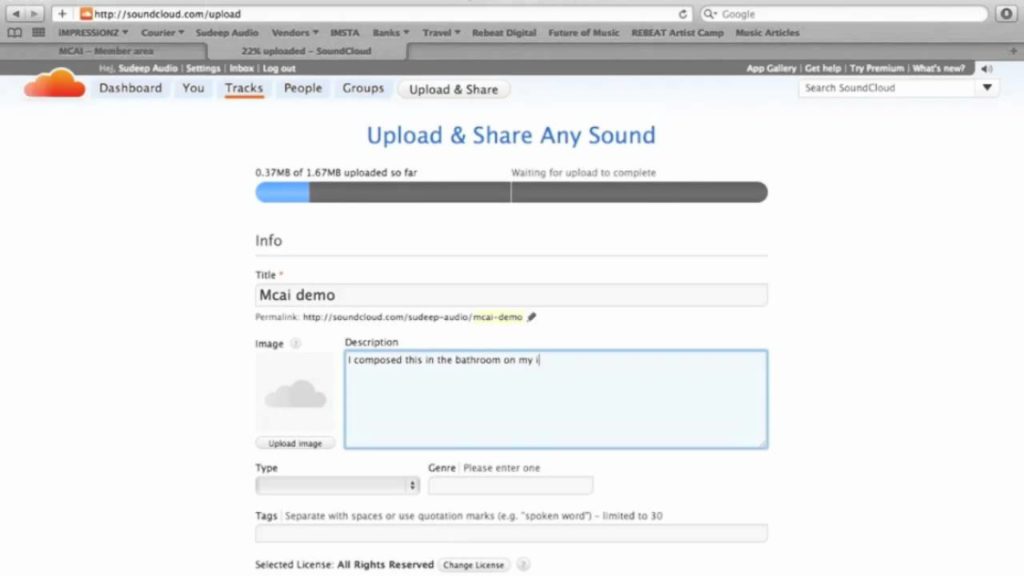 Stage 1: Prepare the Track
You need to prepare the audio file that you want to upload. Before SoundCloud accepts your track, you must have 100% right to distribute the song, or you own the copyright to the audio file. If you're using this platform, it might be a bit of a challenge to create your audio file in such a way that SoundCloud will accept it, but SoundCloud pros won't have any problem scaling through the process.
Fortunately, a beginner can use SoundCloud's in-built recording feature, although the problem they will likely run into is that it only works for recording microphone voice.
Uploading to Soundcloud Is Easier Than Ever!
You can use another sound recorder if you want one that makes it more convenient to record a track. One of such recorder that is free to use is Apowersoft Online Audio Recorder. This software enables you to record an audio file that is playing on your computer. It is preferred by many because, unlike the SoundCloud recorder that limits how you can register, Apowersoft gives you the liberty to record from either your microphone or your system sound. Here's how to use the tool to record an audio file.
Visit the link apowersoft.com, then tap on the button with the "Start recording" option to use this tool.
You will see a window asking you to grant the tool permission, tap on "allow" if you're comfortable with the request.
You will see the tool appear on the screen of your device, tap the "Audio input" option to record your song, but before you start recording, you have to choose the audio source.
Prepare the file that you want to record and upload, after which you'll tap on "Start" to begin recording.
You can pause the recording by tapping on "Pause," and when you're through, you should tap the "Stop" button.
Once you're through, the audio file will be in the destination directory. Since you're through with the recording, you can then move to the second stage, which involves uploading your song to SoundCloud.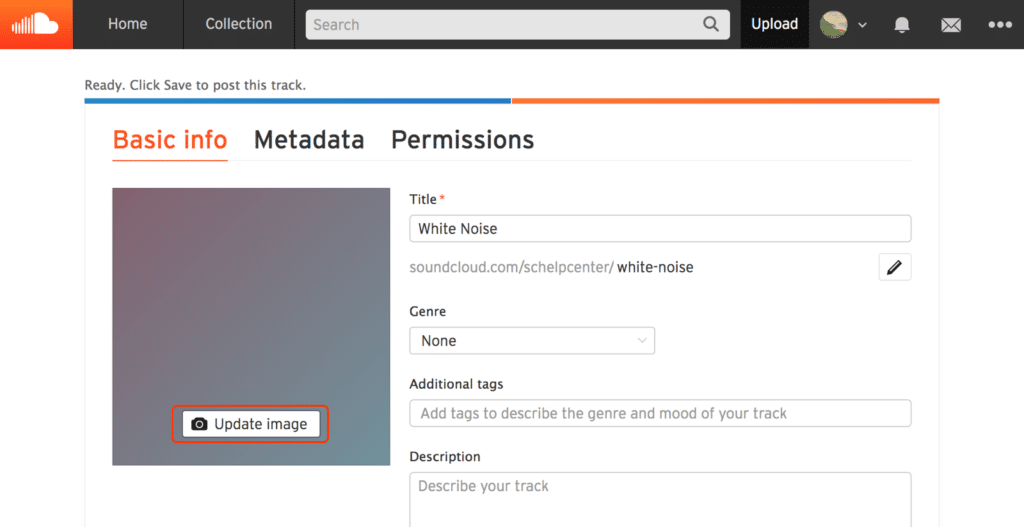 Stage 2: Upload your music to SoundCloud
Before you can upload a track to SoundCloud, you must first have an account on the platform, and you must log in. If you're not, then you should first log in and follow the steps described below.
You will see an "Upload" button at the top right corner of the screen; you should tap on that button.
Now, you should see the option "Choose file to upload," tap on that option. Find the file you recorded and prepared in Stage 1, then drop the music into the field provided.
Fill the necessary information table; you can do this while your sound is still uploading.
It would help if you did not neglect to fill the "metadata," "permission," and "availability" tab. The metadata will determine how well people see your audio file. The permission and availability tab also has a vital role to play; how you set them depends on the goal you want to achieve on SoundCloud.
Once the upload completes, tap on "Save" and your audio file will be ready for SoundCloud at this moment.
Specific rules determine whether SoundCloud will accept your file or not. Some of these limitations include the size of the track and the format.
It is not all audio formats that SoundCloud will accept, the formats that will work on SoundCloud are AAC, AIFF, WMA, MP2, MP3, AAR, WAVE, ALAC, FLAC, and OGG. Anything format outside those will not work.
You cannot upload a file that is more than 5GB in size.
The length of your audio file should not be more than 6 hours and 30 minutes.
Date: January 13, 2020 / Categories: New Stuff, / Author: E O