When taking a look at some of the best audio distribution platforms in the world, SoundCloud is never left out. The fantastic music sharing website has been around for a while now. Since its conception, millions of people around the world have witnessed a better music experience.
SoundCloud stands out from other music sharing websites. This European online audio distribution platform has made a significant impact not just on the lives of listeners, but also the lives of many artists across the globe.
However, when it comes to using SoundCloud, there are several ways to get creative with it. If you have tried to figure out creative ways to use it, then this article should guide you through with that.
SoundCloud is a great platform where you can enjoy tons of music genre and audio types. Today, there is more to it than just listening to music. There are many numbers of ways to creatively use the platform. Below, we will discuss the top five creative ways to make use of SoundCloud. Here's the deal: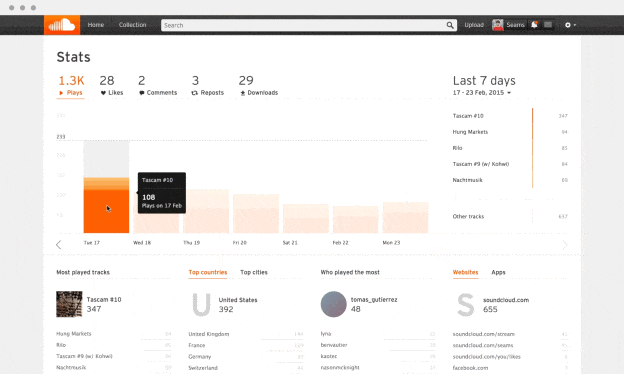 Save For Offline Listening
Streaming your favorite songs every time you want to listen to them can be unnecessary. Asides from the stress of going through your Favorites playlist and then getting them, you will always have to use cellular data or WiFi to listen to them. Offline play means without your mobile data being turned on or without WiFi nearby. You will not be able to hear. The offline setting is where SoundCloud's offline mode comes into the picture.
While using the SoundCloud mobile app, users with premium accounts are free to use the offline mode. This option provides users with the chance to save tracks and then listen to them later. As you do this, you tend to figure out how cost-efficient it is. Asides being cost-efficient, this amazing trick helps to reduce the time of searching for songs as you can access them even when your internet connection of turned off.
Doing this is very easy. All you need to do is like a track on the platform, and after viewing it in your Library. Then, click on the download button by the top right corner of your screen. To make things a lot easier, you can set any song you like to be saved for offline use automatically. Toggle the option by directly heading to your offline listening settings and then turning on Save automatically.
New Soundcloud Use: Enable Dark Mode
For many users, using the dark mode is what they do for most apps on their mobile devices. Luckily, SoundCloud is one of many apps that supports the use of dark mode. Sometimes using the light mode when it is dark can be harmful to the eye. For this reason, using the dark method is sure to come in handy.
Enabling the dark mode is a simple task that can be performed by any user. Here is a brief overview of how to do this for both iOS and Android users.
IOS:
From the homepage of the app, head over to your collection by tapping the icon on the lower right corner
Tap on the profile image
Choose "Settings" and then toggle the Dark Mode button on or off
Android:
From the homepage of the mobile app, go to your collection by simply tapping the icon on the lower right corner
Tap on the profile image
Choose "Settings" and then tap on "Theme."
On the theme page, tap on "Dark" to change to the dark mode
Subscribing to a Premium Plan
Many people use SoundCloud without subscribing to a premium plan. The free version comes with a massive number of setbacks. If you wish to bypass these setbacks, going for a premium plan instead of a free one is not a bad idea.
By subscribing to a plan on the platform, you stand a chance to experience more features from it. This way, you get the best music experience. Also, if you are an artist, you can start to make money from the platform.
In other words, subscribing to a premium plan is one of the many great ways to use SoundCloud. The website comes with a total of 3 unique programs; free, pro, and pro unlimited. Each plan has its one unique benefit and helps set the site apart from other places today. Another good thing, these plans are highly affordable. SoundCloud is free, but when it is time to be creative, opting in for a premium plan should come in handy.
Creative Use: Tag Your Music
Using tags on your music is a great way to promote it. If you have been using the website to improve your music without adding tags, then you must have missed out on a lot of unique benefits. When you tag your music, it becomes discoverable by a large number of users on the platform. To pick the best tag for your music, try listening carefully to what your music might seem similar in style. Another thing to add as a tag could be its genre. Also, adding a mood that fits in with it is not a bad idea.
Making Money with SoundCloud
Making money with SoundCloud seems to have become more comfortable as the year's pass. Today, with its premium plan, people who upload their songs to the platform are entitled to enjoy the SoundCloud Premier. This premier offers them a chance to promote their tracks better, reach out to fans and listeners, and of course, make money from streams on their tracks.
If you are an artist using SoundCloud, it is time to be creative with how you use it and begin to get income from your tracks.
Conclusion
The above are the top 5 ways to use SoundCloud creatively. A significant number of SoundCloud users are now using these creative ways. Today, the music experience of people on the website is better. It would help if you tried them out too. Good luck!
Date: January 20, 2020 / Categories: New Stuff, / Author: E O