SoundCloud Promotion Tips
Last week, we published Part 1 of What To Do After You Buy SoundCloud Plays: Tweaks and Tips for Your SoundCloud Account.
Now that you've mastered the art of tweaking your SoundCloud account, it's time for Part 2: Promotion. Yes, it's possible to gain more attention for your tracks – if you play your cards right.
Promoting your music is a journey that never stops. Below are some tips that will help you reach more listeners, and even foster a better relationship not only with your audience but also with potential collaborators in the industry.
Ready? The journey to limitless SoundCloud promotion begins here.
A Solid Follow-up Marketing Campaign
You can kick off your following by purchasing SoundCloud plays, but this can't be the end of your marketing efforts. You should also have a solid follow-up strategy that can help you sustain your newfound growth and success on the platform.
Diving into the analytics will help you determine the best course of action based on the reception you're getting. This is where that SoundCloud Pro subscription will come in extra handy, which will give you more information about your listeners.
The insights you get with a pro account can also help you determine the stronger points of your marketing campaign. They can tell you where your listeners are, what platform they're using, and how long they listen, which can help you figure out which tracks you might want to put on sale.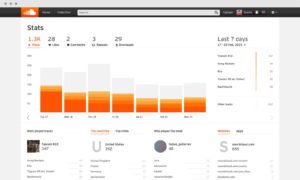 Image credit: SoundCloud
This data may seem complicated at first but once you've gotten used to how it all works, analytics can be one of your most powerful allies.
Use Spotlight to Your Advantage
One of the best things about a Pro account is the Spotlight feature. This allows you to pin a particular track on top of your profile – making it easier for listeners to spot.
This can help you direct attention to a particular new track you want to introduce to your fan base. When listeners go to your profile, the spotlighted track will be the first thing they see (psst! this is where that creative album art comes in really handy).
The Spotlight features allows you to funnel attention and traffic to a track that needs it, for whatever reason. Below you can see how it easy it is to highlight a track using this feature: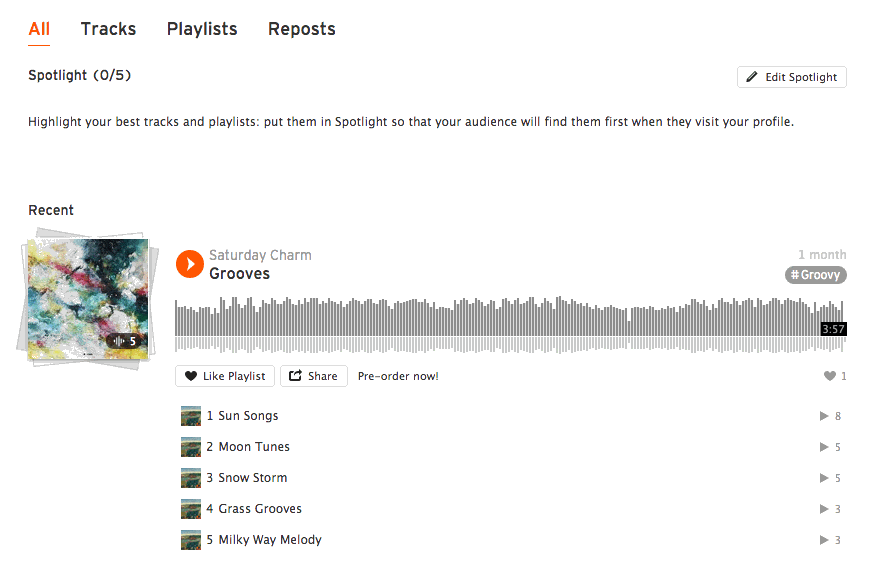 Image credit: SoundCloud
Have a Clear Call-to-Action
Most music makers on SoundCloud fail to put Calls-to-Action to good use. People who are on social media are open to suggestions, but you have to ask them to do it.
Do you want them to download your track? Tell them to do it. Want them to like your tracks or follow you? Ask them. Delivering a strong call-to-action will help you funnel traffic where you need it to be.
There are a number of websites that allow listeners to download a certain track in exchange for a like or a follow. These can help you generate the engagement you need while promoting your track.
Among the websites that offer this service are the following:
ToneDen – This website offers its services for free. If you just want to test the waters, this is a great place to start.
Hypeddit – Although this website offers free services, they also have paid packages that allow for unlimited promotion. Feel free to start out with their basic packages and if you like it, you can always get an upgrade.
FollowGate – FollowGate is another website that allows you to grow your fan base while strengthening your social proof. Just like Hypeddit, they also have free and paid packages that will suit your needs and budget.
Sell Yo'self
Gaining some attention on a platform like SoundCloud is one thing, but keeping the ball rolling after that is another. After growing a following or establishing a fan base comes the challenge of maintaining the momentum.
You should never stop promoting and selling your music even if you've already garnered the attention you want. Continuously promoting your tracks will help you sustain your success while building on what you've achieved by reaching even more listeners.
One of the best reasons to maintain your marketing efforts is the opportunity to monetize your success. This is where you can regain some (or much more than) the investment you've made on your tracks.
SoundCloud allows you to add a Buy link to your track, which gives listeners the opportunity to support you by purchasing your music.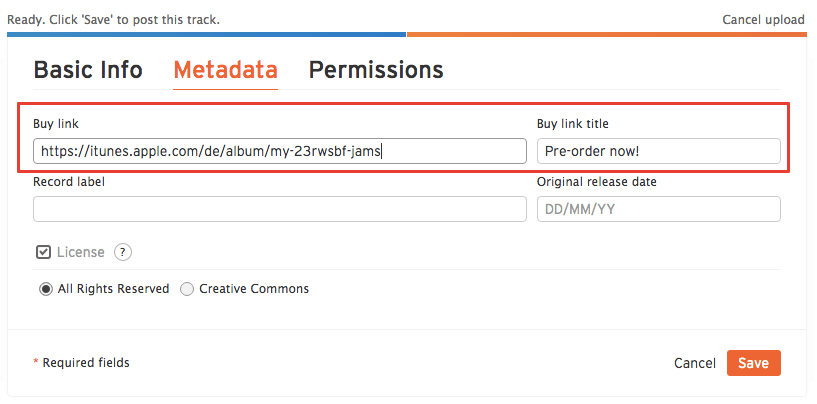 Image credit: SoundCloud
You can direct listeners to Bandcamp, iTunes, or whatever site you sell your music on. By signing up for a Pro account, you get to customize the button to whatever you want (think about the call-to-action section above). You can provide a link to your GoFundMe page, Patreon account or even to your PayPal.
If you want to make music and turn it into your livelihood, you should consider monetizing your campaign with this tip.
Get Social With it
Now that you you've established a fan base, you should have more reasons to promote your track. Promotion isn't just about inviting new listeners to give your track a play, it's also about keeping your existing listeners updated on new releases.
Continuously utilize your other social media accounts to direct traffic to your SoundCloud account. Now that you have a better foothold on the platform, promotion should be easier and well-received by many.
SoundCloud allows you to link up to 10 social networks and supplemental sites to your account, so be sure to put this feature to good use to spread your SoundCloud audience to your other platforms. This is a great opportunity to create a community around your tracks and life work.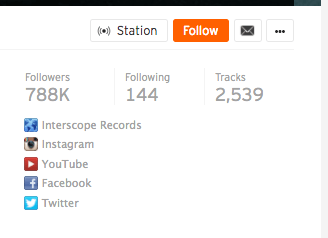 Pro tip: Be sure to fill out the Twitter field when linking all your social networking accounts. If someone decides to repost or retweet your track, your Twitter handle will autofill – can someone say free shoutout?
You can also use your social media accounts to forge relationships with fellow musicians and other creatives in the industry. Having a big enough presence on social media will help you gain the respect of fellow musicians, keeping you connected in the industry.
Once you have established a social media presence, people will be knocking on your door asking for collaborations to get in on the party. You're also more likely to get promoted by other musicians if they see that you're making a buzz of your own.
Collaborate Beyond Your Comfort Zone
One of the surefire ways to get everyone hooked on your music is by giving them something they can't get anywhere else. SoundCloud listeners love getting free stuff and you want to leverage this to keep them excited about the tracks you put out.
Offer some of your covers and tracks for free download. If they download, they're probably more likely to recommend you to friends with a similar taste in music. This can help you gain publicity without you having to do anything!
Remember, word-of-mouth is one of the best advertising methods because people love getting recommendations from those they trust.
If you want to take it up a notch, you might want to consider releasing some of your tracks under Creative Commons. This would allow filmmakers, documentarians and other content creators to use your track and incorporate it into their projects.

This can help you introduce your music on entirely new platforms, and reach more people who otherwise would never have come across your track on SoundCloud.
Think of it as sort of a collaboration effort with other creative people in different industries – this can help you realize the potential your track has as a piece of someone else's vision.
Focus on Your Track
Lastly, focus on your music – now more than ever. The more plays and followers you receive, the more you should strive to provide them with high-quality tracks that are worth their time.
With everything you need to do to promote and market your music, it's easy to get caught up in all the little extras. No matter how hectic things may get, take the time out of your day to work on your music and protect your artistry.
Don't be afraid to disconnect digitally if it means reconnecting with an even more powerful comeback, say a new album or new tracks to release.
Your music should be your highest priority. All these marketing techniques will result to nothing if you don't have a track worth promoting.
Find your ground as an artist and dedicate enough time to let your creative juices flow. Taking the time out to focus on your music can help you stay relevant and worth listening to.
Stay in Constant Motion
As we have reiterated several times in this series, purchasing plays is not the end-all-be-all of your SoundCloud journey – it's just the beginning. There's so much you can do to sustain the success you have achieved at this point.
Success on a platform like SoundCloud is not solely measured by plays or followers, but by how you take the progress you've made and turn it into something more lasting.
Having a strong follow-up marketing strategy is crucial in helping you sustain what you've earned. The more followers you get, the more reasons you have to work harder in promoting your next track.
Success is an uphill climb for everyone. Even if you've reached the top of the summit, you will still be faced with different challenges to hold your spot. Be sure to keep hustling and may the force be with you.
Date: December 28, 2016 / Categories: Getting Discovered, Marketing, SoundCloud Plays, / Author: Mariko