Much like how Instagram has Insights, SoundCloud also has Stats where one can know how many likes or number of times your audio has been played. Creators, like marketers, value the kind of information Stats provides.
SoundCloud has recently introduced a new playlist stat, helping to build a tighter relationship and stronger connection between the creator and the curator. How? Well, the new stat system allows the creator to know who shared his content and how many times the content has been played. This is available on the internet and on SoundCloud Pulse. The good news is, it is available to iOS and Android users for free!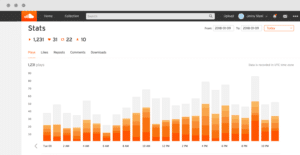 SoundCloud's New Stats Will Help Creators in Engaging With Listeners
What are Stats? Basically, Stats, like mentioned above, are like Instagram Insights where marketers see how their social media efforts are doing, if it has garnered the engagement he/she needs, or how many likes or comments a post gets. SoundCloud Stats lets creators know how people on the platform receive their audios, how many people have hit the play button for their content, or how many downloads did the audio get. Also, Stats helps the creators know where the audio was most played, which content is the most played, or on which channel are your contents most played.
This is especially helpful to budding artists who use SoundCloud as an avenue of not just self-expression but also a stepping stone. There are 1.2 million creators on the platform, and knowing this information will be beneficial for them in planning ahead of engagement strategies.
Aside from these essential information creators will get to have, the Stats will also show the ranking of the playlist the content is featured on. You will get to see all of these features in an improved interface of the Stats. What is more enjoyable than looking at how your content is soaring than a fresh interface for a better experience. This new Stats module is in a bid to help creators in the community to engage more with curators and to be able to aid them in their career choices. Design-wise, this new look of the interface is a sure way to up the level of experience of gauging how your content is placing in the charts.
How To Read Soundcloud Statistics
How do you read Stats? First, plays are only counted if your content is played by other people. Murdering the play button yourself will not do if you are just after the numbers. Likes by other people of your audio or saving it for later in their Collection also appear in the Stats. The number of stats does not always mean that people listen to your audio. Downloads can be measured only if you allow your contents to be downloaded.
Comments are oh-so-important in knowing how your contents are faring. It should be highlighted that the comment section is great for you to pick up some criticism or inspiration. You will know if your audience digs what you are doing or if you have to improve on some aspects. Whether positive or negative feedback, take the time to read comments because people leaving their reaction on your content only means that they have hit the play button. They have spent time in actually listening to your content, which is what you want in the first place. Thank those who give kind words for their moral support and ask them for more suggestions. For those who have left criticisms, ask them how you can improve.
Shares, just like in other social media platforms, appear in the Stats. If a person reposts your audio, chances are, your track will have a higher chance of being listened to. This is because your content, which is shared by the listener, will pop up in their followers' Stream. With this, followers of your listener might be enticed and will listen to your audio as well, which converts into higher play rate.
What is more is that creators who are clueless as to how to make it big in the biz will have an idea on which aspect to improve? Stats are of a great help to know if your content had been reaching the ones you intend to reach. Monitoring your audio's Stats will help you know what step to take next.
Moreover, one of the things that Stats can do for you as a creator is that it will let you know if what you are doing is working or not. Do your audience love your audios? Do your audience download your contents? If yes, then you are probably on the right track. Continue doing what you are doing.
The New Soundcloud Stats & Statistics
This new rolled out Stats by SoundCloud will only make life easier for creators who can easily gauge whether their efforts are becoming fruitful or futile. As a creator, it is essential for you to interact with those who seemed interested in your contents. Engagement is as important as the quality of your content. Making sure that you give what your audience wants is one thing, but giving them quality content consistently is another.
Rule of thumb: Start an engagement and build on it. Try engaging your audience through the comment section or likes. When you have connected with your audience, make sure to express gratitude for the feedback they have been providing you, whether good or bad, because it will help you in the long run by helping you plan your tactics.
Monitor your followers as well, and see if you are building the number up. Another advantage of Stats is that the number refreshes every hour. Make sure to use SoundCloud Stats to its full potential. Try looking at how your content is perceived by people in a certain area. If you have the resources, avail the Pro or Pro Unlimited Plan as it will give you a more holistic and detailed version of the numbers behind your contents. You will get to know who are your top 50 listeners on SoundCloud and some basic information about them.
Date: October 9, 2018 / Categories: New Stuff, / Author: Rich Drees