With over 175 million unique listeners monthly, SoundCloud is definitely a great platform to launch your podcasting career. Since SoundCloud has a highly engaged and collaborative pool of listeners, you can definitely kickstart your career to greater heights just by choosing to host your podcast on SoundCloud.
Many podcasters are choosing SoundCloud over older platform because it is affordable, intuitive and highly customizable. On top of the analytics you can access with a Pro account, giving you deep insights into your audience, SoundCloud has all the basics covered and makes podcasting appear almost too easy – even for a beginner.
You can use SoundCloud to give your podcasting career a running start – and you'll have even more of an advantage if you follow our tips. Below is everything you need to know in order to make it on top of the podcasting charts.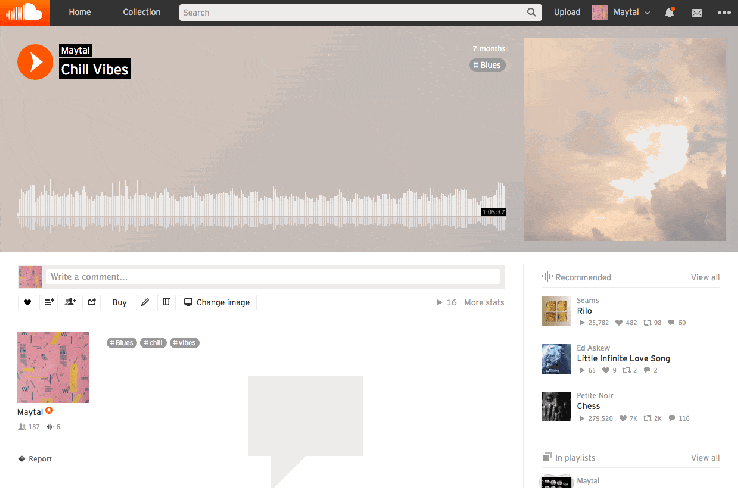 Image credit: TechCrunch
Invest in Content
When we say invest in your content, we meant investing the time and money it will take to elevate the quality of your show.
Investing in your content means being careful about recording and making sure there's little to no background noise that could disrupt the listener's concentration. If you've ever listened to a poorly-recorded podcast with background noises, I'm sure you can sympathize.
It also means investing in recording tools and equipment that will give your listeners a better experience. There are quite a few inexpensive tools out there that can help you improve the quality of your podcast.
Below are some inexpensive condenser mics you can invest in to improve the sound quality of your podcast.
Samson Meteor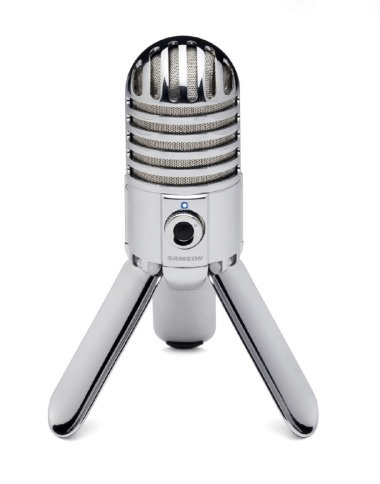 Image credit: Amazon
The Samson Meteor is an inexpensive yet high-quality condenser mic that you can connect to your computer via USB, or to your iPad through a lightning cable. Priced at $68.94 as of now, this is a great recording tool for those just starting out.
Audio-Technica AT2020USB Cardioid Condenser USB Microphone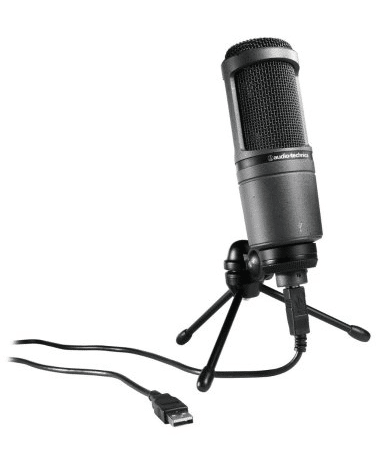 Image credit: Amazon
The Audio-Technica Cardioid Condenser USB microphone is another versatile pack-and-go microphone that is compatible with a lot of sound editing software both for Mac and PC.
This superior condenser microphone only costs $149, making it great for beginners and even moderately-advanced podcasters.
Production Software
You can improve the overall quality of your podcast by investing in sound editing software that will allow you to put out a more concise and polished recording.
If you are just starting out, there are a lot of free sound editing programs available on the internet that have many of the same functions as premium ones. Among those are:
It's the tiny things that you do behind the scene that can improve the quality of your podcast. If you are serious about kickstarting your career on SoundCloud, consider making these tiny investments as early as possible. There are also more expensive programs that you should eventually graduate to.
Consistent Branding is Key
Branding is one thing you need to be consistent about when it comes to your podcast. While podcasts are simply audio-centric shows, there's no harm in investing in a wicked show banner on your SoundCloud page to attract more listeners.
The Read is a podcast that talks about everything pop-culture with a humorous spin. Hosted by two bloggers, Kid Fury and Crissle, this show allows listeners to indulge in gossip while getting a whole lot of laughs out of it.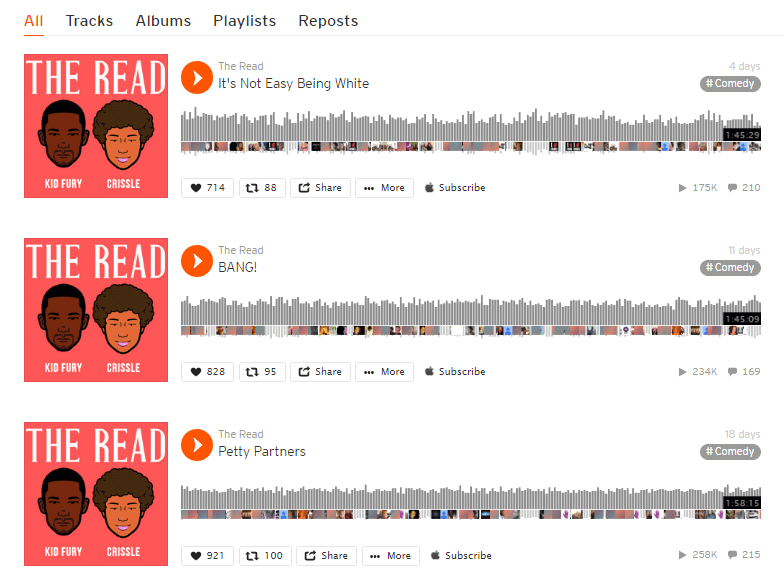 Image credit: The Read Podcast
When you visit their page, you'd see that they have an eye-catching profile picture that's easy to recognize. They took it a step further by using it as the thumbnail for every episode.
Be as consistent as you can with your marketing materials, such as your thumbnail and the artwork for each of your episodes. This will help you become more familiar and recognizable to listeners.
This is where you can let your personality show through. Put a lot of thought into your profile picture, your page banner, and also the artwork for each of your episodes. You definitely don't want to change it once people begin noticing you, leading to confusion.
This can also help you catch the eye of anyone just casually browsing the platform, who might stop when they see your artwork.
Make sure to choose a photo that scales well and is easily recognizable – nothing too busy or else it will be an eyesore and people won't comprehend it as quickly.
Buy Yourself Some Plays
Purchasing SoundCloud plays can help you strengthen your credibility as a podcaster. If you are having a hard time gaining some plays, consider buying them from a reputable provider.
This is a way to strengthen your social proof without overly exhausting yourself. By purchasing plays from a reputable provider, you are ultimately giving yourself the running start you need to launch your career to greater heights.
Scammers are everywhere on the internet, and that's why it's important that you choose your provider wisely. There's nothing worse than getting scammed while you're trying to get your podcast off the floor. Learn to avoid this costly mistake by reading our comprehensive guide here.
Remember, Buyers Beware! This is your best bet in avoiding scammers on the internet. It's also smart to put in the time to research some of the different providers out there.
To make things easier for you, we did all the dirty work and placed some of the most popular providers to the test. We listed the top providers who offer the most reliable bought SoundCloud plays services on the world wide web – so you don't have to find them yourself.
These providers have proven to offer prompt customer support, reliable delivery and comprehensive policies that protect your best interests as a podcaster. They are tested based on several strict criteria to make sure you are getting exactly what you signed up for.
Stop, Collaborate, and Listen!
With over 12 hours worth of audio being uploaded every minute, SoundCloud is a platform where you can easily find fellow podcasters to work with.
Collaborating with fellow podcasters will help you reach their audience and can bring more recognition to your show.
Sit down and give yourself enough time to listen to other podcasters that cover the same things as you do. Instead of treating them as your rival, consider them your ally and use this as an opportunity to bring yourself closer to a much wider audience.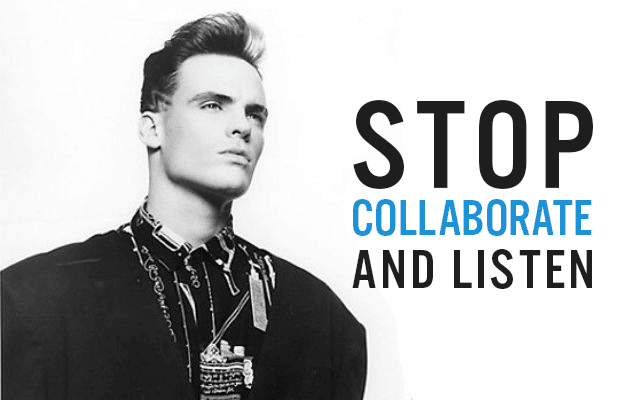 Image credit: Philden Model Railway
Be genuinely interested in getting to know your fellow podcasters and think of projects that can add value to the lives of both of your audiences.
Strike Partnership with Potential Sponsors
Even if you are just starting out, you can still strike deals with brands for sponsorships.
Don't hesitate to reach out to brands that offer services or products that are truly useful to your listeners. If they like you they might work with you, even if you're not yet popular.
If a company sees how engaged you are with their target market, they might be more than happy to sponsor a giveaway. Even a simple giveaway will get listeners excited – because who doesn't love free stuff, right?
Before hosting a giveaway, be sure to review SoundCloud's guidelines when it comes to sweepstakes and promotions.
Go Pro
If you want to make the most out of what SoundCloud has to offer, consider upgrading your subscription. SoundCloud Pro gives you access to some in-depth stats that can help you come up with a more effective marketing strategy.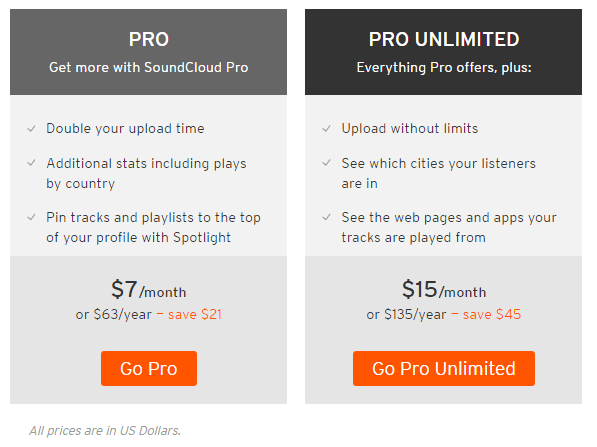 Image credit: SoundCloud
SoundCloud has some of the lowest subscription rates out there. Not only do you gain access to some pretty sweet stats, you'll also have unlimited upload time – a great feature if you're in this for the long haul.
If you make good use of the pro features, you can easily target your listeners with laser sharp precision.
Spread the Word Through the Social Media Vine
If you really want to make it big in SoundCloud's podcasting community, you should know that consistent visibility and influence is highly regarded.
To gain more listeners, don't hesitate to take your promotion efforts off the platform. Sharing outside of SoundCloud helps you utilize your existing network to strengthen your podcast's credibility while helping you reach more organic listeners.
Strategize and Launch
There are a million and one ways you can kickstart your podcast on SoundCloud, we've only mentioned just a few of them above.
If something is not working with your current strategy, don't hesitate to regroup – it's never too late to come up with a new growth-hacking strategy. If you're a newcomer, don't be intimidated. Utilizing all your available resources and tools will help you grow your podcast faster than you think.
Kickstarting your podcast on SoundCloud is all about making smart decisions and wise investments. You don't have to spend a lot to launch your career to great heights, you just have to make informed decisions.
Consider purchasing SoundCloud plays from highly reputable providers to make sure you get what you pay for. Avoid scammers at all costs – they won't do you or your podcast any good.
Do your best to stay consistent and be relentless in forging a potentially rewarding friendship with your listeners and fellow podcasters. Follow these tips and we are certain your podcast will skyrocket it's way to the top!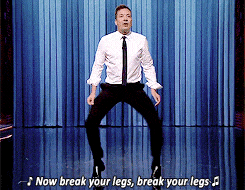 Date: April 5, 2017 / Categories: Getting Discovered, Marketing, SoundCloud Plays, / Author: Mariko