Underground music has always been the lifeblood of SoundCloud. Now, it's also the focus of their newest project, the Next Wave, in an effort to breathe new life into the struggling company.
SoundCloud is facing financial woes but they recently found more funding and still plan to be around for years to come. They're now running a documentary series called Next Wave as part of their plan to refresh the vitality of the platform.
What is SoundCloud Next Wave, how is it going to save SoundCloud, and most importantly, how is it going to affect you and your music? Read on and find out everything you need to know about the Next Wave documentary.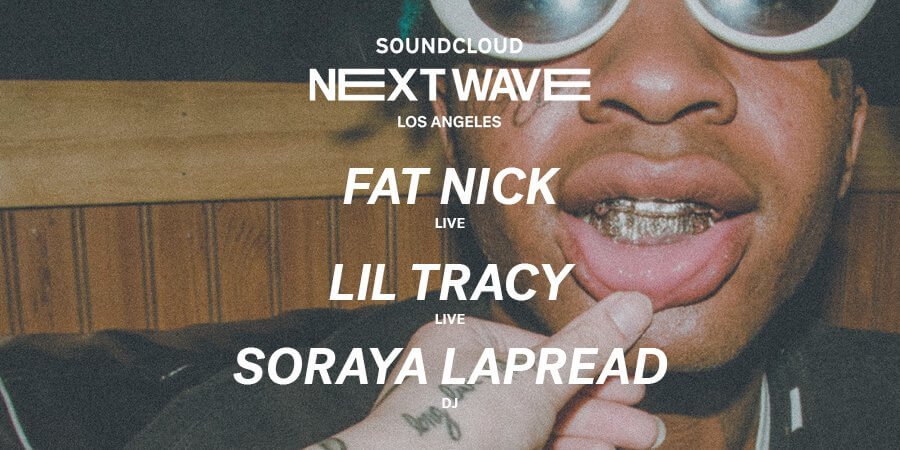 Image credit: Twitter
SoundCloud and the Birth of Next Wave
Rumors about SoundCloud folding up have been circulating the net since CEO Alexander Ljung told investors SoundCloud may run out of cash before the end of the year. The speculations only intensified when the company fired 173 of its employees in July, reportedly to cut down on expenses.
Then Chance The Rapper came into the picture, and suddenly SoundCloud is tweeting a video teaser of a documentary series called Next Wave.
Their message was simple: "#NextWave. Coming soon 🌊"
Chance The Rapper Saves SoundCloud?
No, Chance The Rapper didn't actually put up his own money to keep SoundCloud in business. Chance The Rapper, who launched his career on SoundCloud, instead showed his support for the platform by creating, together with Young Thug, a song called "Big B's" and then uploading it exclusively to SoundCloud.
It was probably what he was referring to when he tweeted "I'm working on the SoundCloud thing" because after that weekend, "Big B's" made some noise on SoundCloud.
He also created hope among thousands of nervous SoundCloud artists when he repeated SoundCloud CEO Alex Ljung's promise that the platform "is here to stay" and that all uploaded tracks are safe.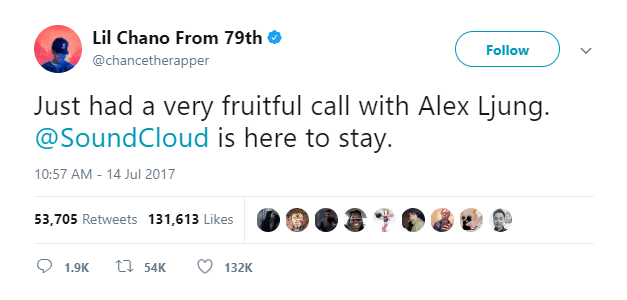 Image credit: Chance The Rapper via Twitter
"Just had a very fruitful call with Alex Ljung. @SoundCloud is here to stay," The Rapper tweeted.
Indeed, most people think Chance The Rapper is the reason behind why SoundCloud is still operating today. Actually, it looks like SoundCloud, in partnership with The Fader, is saving itself with the help of new projects like Next Wave.
Next Wave is a six-part docuseries designed to shine a light on the underground music of emerging artists on SoundCloud.
If you're wondering how Next Wave will save your creations on the platform, you can take the word of the CEO and believe that your music is safe. Or you can take some precautions and back up all your tracks. Whatever you do, as long as SoundCloud is here, keep your presence on the platform strong, particularly now that SoundCloud is focusing its attention on musicians like you.
Continue growing your fans and promoting your tracks. Buy SoundCloud Plays to convince people to listen to your music and become followers. A higher number of plays will help draw attention to your tracks and attract more fans in the process. It's a great way to quickly and easily boost your career.
Partnering with The Fader
So, SoundCloud has partnered with The Fader, one of the hottest music industry magazines, to bring you SoundCloud Next Wave.
The Next Wave features local music scenes in six cities around the world, and The Fader curates the playlist which users can also stream from their SoundCloud page.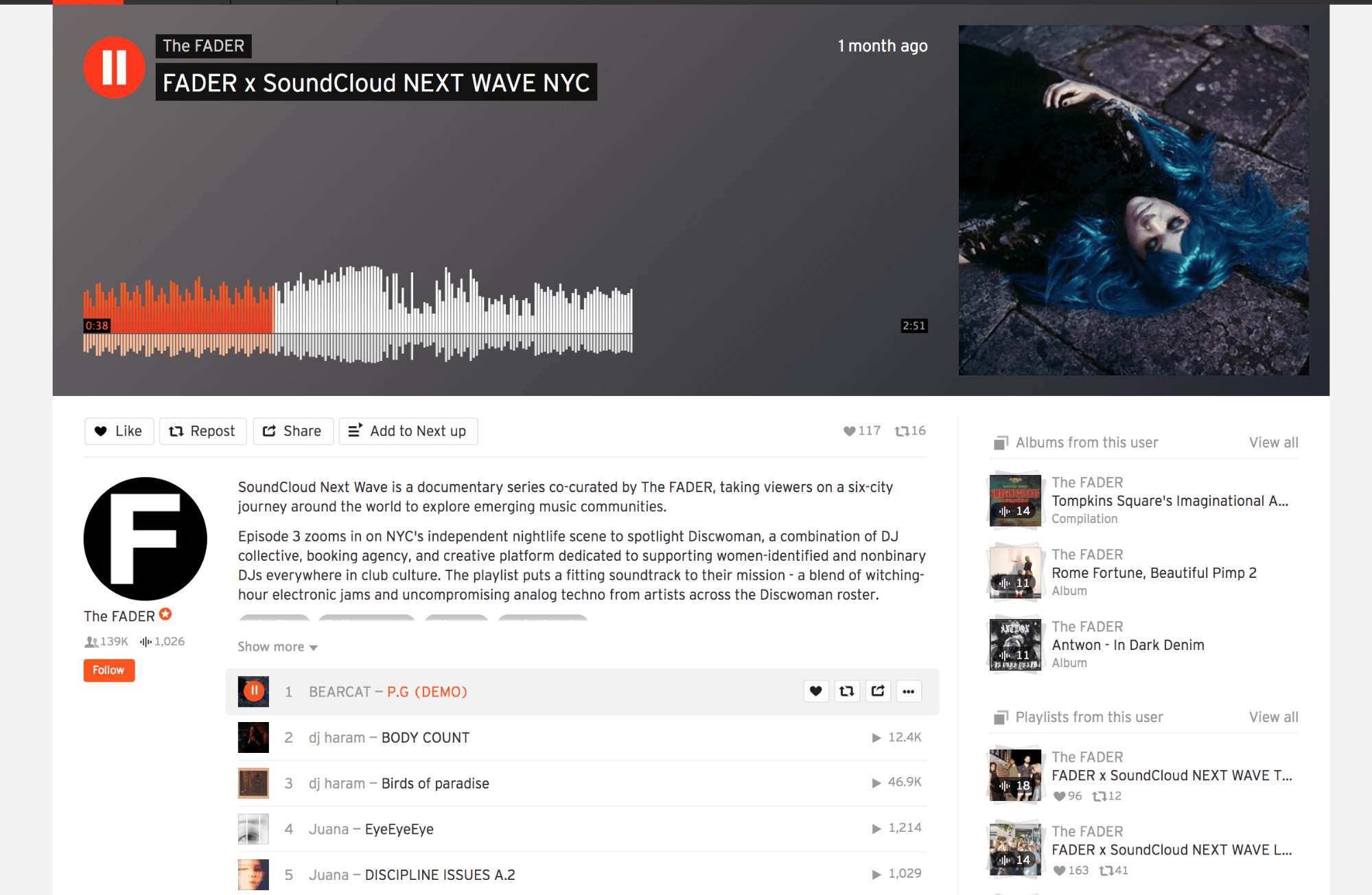 Image credit: The Fader on SoundCloud
The Fader is a magazine/media company that covers music, style, and culture in print and digital forms. They are the unofficial guide to what's next in music and gave early exposure to popular artists like Kanye West, Drake, Kendrick Lamar and more.
With this partnership, SoundCloud hopes to attract attention and encourage more users to keep coming back to the site.

Image credit: SoundCloud Press
As Megan West, Vice President of Content Relations at SoundCloud said, "The internet and platforms like SoundCloud have changed the relationship between musicians and their fans. The paradigm has shifted where massive underground followings can form organically overnight without traditional marketing or promotion. …. We're excited to shine a light on these emerging scenes bubbling on the platform."
By exploring underground music scenes, creating original content, and featuring behind-the-scenes looks at their social media channels, SoundCloud is raising the bar and somewhat putting themselves in league with other sites like Spotify and Apple Music — they both have a smaller user base than SoundCloud but also have more successful business models.
The Next Wave Documentary Series
The Next Wave series will focus on budding music artists from L.A., Rio de Janeiro, Toronto, New York City, London, and Berlin. SoundCloud fans can expect one episode each month until December of this year.
The first episode, entitled "Degenerate Generation," already debuted on the 20th of July.
It covered stories and behind-the-scenes exclusives of artists like Pouya, Fat Nick, and Lil Tracy.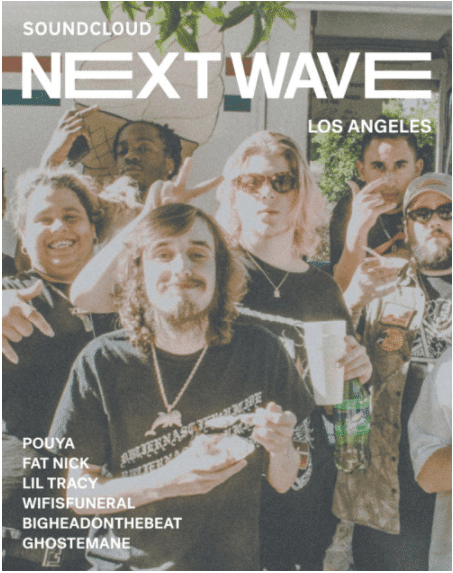 Image credit: SoundCloud via Tumblr
The second installment in the series spotlighted Toronto's soulful and groovy side. The "Northern Stars" episode introduced up-and-coming local artists like Harrison, a l l i e, Birthday Boy and M.I. Blue.
A more recent episode, "Extended Mix," featured New York-based booking agency Discwoman, and electronic artist Bearcat.
Just because you aren't appearing on SoundCloud's Next Wave doesn't mean you should stop growing your SoundCloud presence. You can catch up to and even fly by popular creators on SoundCloud by boosting the social signals on your tracks.
Try buying SoundCloud Plays, Shares, or Followers to kickstart your popularity and improve your visibility on the platform. People naturally gravitate to popular music because they equate popular with good. With bought plays, your tracks will appear more attractive and that will make people want to hear what they've been missing out on.
With SoundCloud's Next Wave project calling attention to the platform, you'll have a better chance of people hearing your music. Make sure your tracks have enough plays on them to seal the deal.
What's Next for SoundCloud?
SoundCloud has just released another episode of Next Wave, titled "Visão" and featuring quite a lineup: MC Bin Laden, MC 2K, MC VM, MC Fioti, Yuri Martins, and DJ Polyvox. These mini-documentaries have, no doubt, given some underground musicians plenty of exposure in their communities, both local and digital.
It's not clear how SoundCloud will proceed, but creators on this platform probably don't have to worry about it shutting down soon. Producing a documentary to promote underground music of local talents might be seen as a risky venture, especially at a time when their existence is threatened by financial constraints.
Underground music caters to just a small segment of the population and it remains to be seen whether the Next Wave will be worth their dwindling resources. But it could be just what the platform needs.
Catch the Next Wave!
It's obvious that SoundCloud, the only music-sharing website that has its own genre named after it — SoundCloud rap — is not ready to give up yet. Most musicians, like Chance The Rapper, believe in SoundCloud's capacity to lead homegrown artists to stardom the same way it did for him, and they aren't throwing in the towel yet.
If you're in the same boat as them, work on catching the Next Wave and growing your presence on SoundCloud. Backing up your music is always a good plan, but don't neglect your SoundCloud growth, too! At least not for the foreseeable future.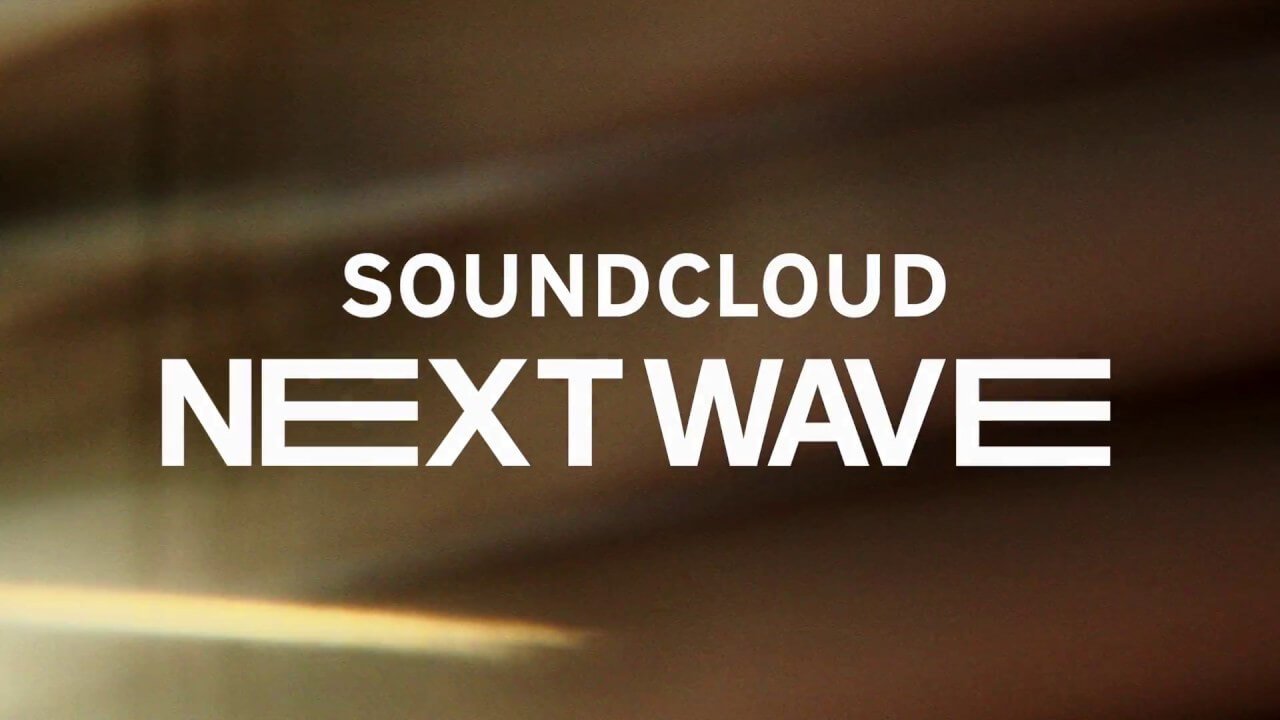 Date: November 1, 2017 / Categories: New Stuff, / Author: Chell